I love me 2016 haul! So these are the things I bought from the fair with my own money. I'm so excited about ALL of these, because I have wanted to buy these for SO long :) So let's jump right into them. Enjoy!
I love me 2016 messujen shoppailut! Joten nyt olisi vihdoin vuorossa ne messuilta itse ostamani jutut. Olen niin innoissani näistä KAIKISTA, koska olen halunnut ostaa nämä tuotteet jo pidemmän aikaa :) Joten mennäämpäs sitten suoraan niihin tuotteisiin. Nauttikaa!
Real Techniques face expert foundation brush and setting brush. These are two (of many) brushes I haven't test yet from RT's "original brush line". These costed 9 and 7 euros, which is really cheap, so I bought them both. I was wondering between these two or bold metal collection's blush brush, but decided to grab these two instead, because I needed these more than a blush brush. Hard choices! You can see my other RT's makeup brushes reviewed from this post! :) And btw I have really liked that setting brush for highlighting! Next I really have to get those Real Techniques Bold metals collection's blush, powder and eyeshadow brushes. But they are so expensive!
Real Techniques face expert meikkivoidesivellin ja setting brush. Nämä kaksi sivellintä puuttuivat vielä mun RTn "alkuperäisten siveltimien" sarjasta (niin kuin parit muutkin). Ja kun hintaa näille jäi messuilla vain 9 ja 7 euroa niin olihan ne ostettava. Pähkäilin näiden kahden ostamisen ja bold metals sarjan poskipuna siveltimen oston välillä. Mutta päädyin sitten näihin kahteen, koska niille oli inan enemmän tarvetta nykyisessä meikkisivellin kokoelmassani. Vaikeita valintoja! Näet muuten mun muut RTn meikkisiveltimet arvioituna tästä postauksesta! :) Ja tuo setting brush on muuten ollut aivan mahtava korostusten laittamiseen! Seuraavaksi mun täytyy kyllä ostaa Real Techniques Bold Metals sarjan poskipuna, puuteri ja silmämeikkisiveltimet. Mutta kun ne ovat niin kalliita!
Real Techniques Bold Metals collection's miracle diamond sponge! They had this 500 peace pre-sale of these sponges in the fair, so I had to be a good blogger and buy this to test it out right away :P This costed 15 euros (IIIIIIKS!), so hopefully it's worth it! Many of my fellow bloggers love this, so I have high hopes for this :)
Real Techniques Bold Metals collectionin miracle diamond sponge! Messuilla oli 500kpl erä näitä meikkisieniä ennakkomyynnissä, joten olihan mun pakko olla hyvä bloggaaja ja ostaa tämä heti arvioitavaksi :P Hintaa tältä löytyi 15 euroa (IIIIIIIIKS!), joten toivottavasti tämä on myös sen hinnan väärti! Monet kanssa bloggaajani rakastavat tätä, joten toiveeni ovat korkealla :)
NYX's face and body glitter! Nyx also got these glitters for pre-sale and I have been wanting to test out some glitters, so I bought one. This costed 7,50 euros, so not bad at all! I bought the color 02 and I wish I would have bought them all :) This is stunning!
NYXin kasvo- ja vartalokimalle! Nyxillä oli myös ennakkomyynnissä näitä glittereitä ja mulla on juuri sopivasti ollut etsinnässä irtokimalle silmämeikkeihin. Ostin sävyn 02 hintaan 7,50 euroa. Ei paha hinta ollenkaan! Toivonkin, että olisin vain ostanut kaikki myytävillä olleet sävyt :) Tämä on niin kaunis!
Goodio's vegan chocolates! Nam nam. Last time I bought one Goodio's chocolate was when I visited TwistBe store in this post! TwistBe had this Goodio's chocolate testing table and sale for 3 chocolate for 10 euros. I tasted them all and decided to buy these, which were my favorites. SO GOOD! I have already almost eaten them all :P Uups.
Goodion vegaanit suklaat! Nam nam. Viimeksi ostin Goodion suklaita TwistBen liikkeessä vierailessani tässä postauksessa! TwistBe kojulla oli Goodion suklaiden maistatus ja messutarjouksena kolme levyä kympillä. Maistelin kaikkia ja päädyin näihin. NIIN HYVIÄ! Olen jo melkein syönyt nämä kaikki :P Uups.
Sun Spelt spelt liquorice bars! I also bought more of these and these are also really good!
Sun Spelt speltti lakupatukat! Ostin myös näitä lisää ja kyllä nämä ovatkin taas vaihteeksi hyviä suklaan ystävälle!
I think it was Beautypopup who had these beautyblender kits at really good price at the fair. 19.90 euros for these all :o You get an original pink beautyblender, micro.blender, bodyblender and a mini beautyblender soap. Really good deal and I was supposed to buy one beautyblender from the fair anyway, so I had good luck this time.
Olisko se ollut Beautypopup kun myi näitä beautyblenderin settejä hyvään messutarjous hintaan. Näistä kaikista pulitin yhteensä 19.90 euroa :O Sain paketissa siis pinkin alkuperäisen beautyblenderin, micro.blenderin, bodyblenderin ja mini kokoisen beautyblender saippuan. Erittäin hyvä diili ja kun messuilta oli joka tapauksessa suunnitelmissa kotiuttaa yksi beautyblender, joten tämä tarjous oli mulle hyvää onnea.
Ardell false lashes! My stack of false lashes needed some refilling, so I bought Ardell's lashes in style "Natural 110 Black" and "Soft Touch 151 Black" ! I have already used those top ones, like you can see in the picture. They were so pretty that I had to wear them asap :P These costed 5 euros a pair and the glue was 7 euros (I think?). Now I have a good lash glue, so that means more makeup looks with false lashes :) YEJ!
Ardellin ripsiä! Mun tekoripsi valikoima vaati täydennystä, joten ostin sitten Ardellin ripsiä tyyleissä "Natural 110 Black" ja "Soft Touch 151 Black" ! Ehdin jo käyttämään noita ylimmäisiä ennen näiden kuvien ottoa, koska en malttanut jo päästä testaamaan niitä :P Hintaa ripsiltä löytyi viisi euroa pari ja liima oli seitsemän euron luokkaa. Nyt multakin löytyy hyvä ripsiliima, joten se tarkoittaa lisää meikkilookkeja kunnon ripsien kanssa :) YEJ!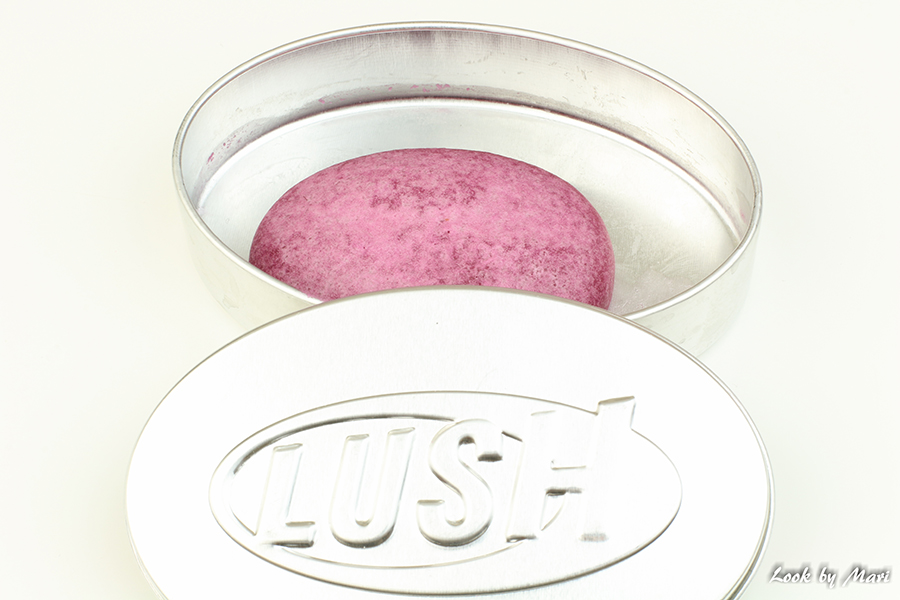 After the fair I also pick up this metal container from Lush Mansku. I keep my solid conditioner here and it's really good for that :)
Messujen jälkeen poikkesin myös Manskun Lushin kautta hakemassa tämän metallisen säilytysrasian. Kotona purkkiin päätyikin Lushin kiinteä hoitoaineeni ja siihen tuo rasia on kyllä nappi valinta :)
That was my I love me 2016 fair haul! I'm so SO excited to test these out and you'll be hearing more about these, if I really love something. Happy Sunday! Till next time – Mari
Siinä oli mun shoppailut I love me 2016 messuilta! Olen niin NIIIN innoissani näiden tuotteiden testaamisesta ja tunnettuun tapaan näistäkin kuuluu myöhemmin, jos rakastun johonkin näistä kosmetiikkatuotteista sen enempää. Iloista Sunnuntaita! Seuraavaan kertaan asti – Mari